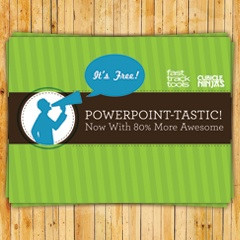 Each week, the Fast Track Tools training company and the Cubicle Ninjas design firm work together to publish a template that makes it easier for you to communicate your ideas. This week we bring you a template that breaks all our rules.This template provides a space to enter a few paragraphs of text that could not be read from more than about two feet. Why did we do it? Many presentations happen around a conference room table. This format allows you to put in detailed notes that support the simple image on the majority of the slide.
This is a great tool to use when you have a lot of details to give your audience, but not all will be spoken. You can ensure everything is annotated for future readers of the presentation.
As you can see in the free, down-loadable template below, the text can be edited and you still have a lot of slide available for easy to read diagrams and imagery.


Don't miss a single free template! Keep up-to-date with Fast Track Tools by subscribing to our blog, via Twitter @fasttracktools and join our Facebook community! Connecting will ensure your don't miss special subscriber or "friend" only offers down the road.
The PowerPoint-Tastic series of templates are available for your use with no copyright limitations.
Collect them all and you will have a slide library that really WOWs your audience.
When you use our templates, we only ask that you spread the word and tell others about our services.