As I've worked with teams and individuals to improve their communication skills over the last two decades, business has become increasingly complex. One thing has stayed consistent: problem solvers are recognized as winners!
Over the next couple of months, I will provide an extended series of posts entitled Communicate to Win focusing on tips and resources for communicating clearly and solving problems. This includes developing your own compelling narrative to engage an audience and bring your presentations to life.
The undeniable fact is that great communication is key to getting great ideas implemented. An example for you to consider…
What if PowerPoint existed in 1491, when Christopher Columbus was seeking funding for his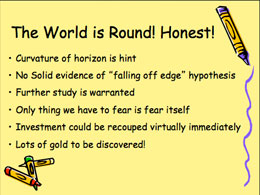 now famous voyage? What if his presentation looked something like this?
He needed funding to go on an expedition. He had to tell his story and convince them of the possibilities. He was up against a tough crowd, because everyone believed the world was flat. Columbus had an idea and needed to move decision makers to action. Choosing the crayon background for a PowerPoint and sending random ideas off to Queen Isabella would not have earned him his ships.
He has some good arguments, but this would not have been the way to present them. Even though his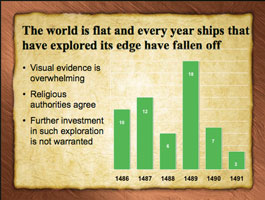 idea was the right one, this slide does not communicate it persuasively or convincingly. What if the nay sayers, who believed that the earth was flat, had been great at structuring their ideas and presenting their story? We know the nay sayers were on the wrong side of the argument, but they outline their points well. The nay sayers obviously knew how to Communicate to Win!
Ultimately, through compelling story telling, Columbus convinced Queen Isabella of Spain and her advisors it was highly likely that there was a shortcut to the Indies. He outlined the need for a huge fleet of the best sailing ships to make the voyage. Funding proved difficult, but he received three ships; the Niña, the Pinta and the Santa Maria.
The undeniable fact is that great communication is key to getting great ideas implemented.
Stay tuned for the next post in the Communicate to Win series next week!